Ciao a tutti e benvenuti al secondo post+ vlog di viaggio da Londra!
Hi and welcome to our second travel post + vlog from London!
DOMENICA 31 MAGGIO - SUNDAY MAY 31RST
Piove alla mattina del nostro secondo giorno, ma non basteranno di certo poche gocce per fermarci e infatti, munita di berretto, sciarpa e capotto sono pronta ad affrontare la giornata (nonostante lo sguardo truce :D )
It's raining our second day, but rain won't stop us for sure, in fact here I am in my beanie, scraf and coat, ready for the day (in spite of the grumpy face :D )
La capretta all'entrata dello Spitalfield market ci dà il benvenuto, insieme ai pub dai nomi insoliti :)
The gaot the the entrance of the Spitalfields market welcomes us, together woth some weird named pubs :)
Dopo una veloce, ma deliziosa colazione alla
Patisserie Valerie
ed un giretto per il mercato di Spitalfields, ci buttiamo sulla metro verso il centro.
Per una shopaholic come me Londra è un vero paradiso e la maggior parte dei miei negozi preferiti è strategicamente posizionata in Oxford street (Primark, TopShop, Urban Outfitters, Boots, Superdrug, Selfridges, solo per citarne alcuni), perciò è da lì che parte il nostro shopping tour!
After a quick yet delicious breakfast in Patisserie Valerie and a tour of the Spitalfields market we jump on the tube toward the centre.
For a shopaholic like me London is a paradise and the majority of my favourite shops is strategically located in Oxford street ( Primark, TopShop, Urban Outfitters, Boots, Superdrug, Selfridges, just to name a few), so that's the perfect place to start our shopping session!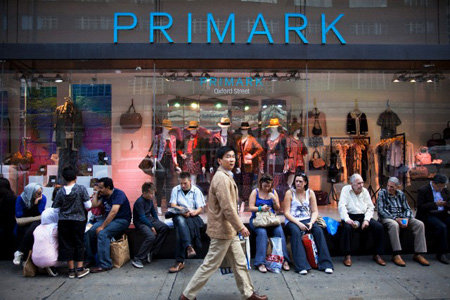 Per il pranzo torniamo verso Spitalfields, carichi di borse e ci concediamo una tappa da
Nando's
. Se capitate a Londra dovete fare un salto in questa catena di ristoranti portoghesi specilizzati in piatti a base di pollo!
Loaded in bags we head back to Spitalfields and we treat ourselves with a delicious lunch at Nando's.
If you'll ever visit the U.K. you need to try their amazing chicken, it's worth it :)
Un salto in hotel a posare le borse e darci una rifrescata e siamo pronti a ripartire per la serata in centro, inziando da un giretto a Carnaby Street!
A quick stop at the hotel to leave the shopping bags and freshen up and we're ready to head out again for our evening in town, starting with a visit to Carnaby Street!
Polpo
apre la nostra serata in piacevole compagnia di Lis e della sua amica Angela. 2 spritz, un sacco di chiacchiere e risate dopo siamo pronti per la cena Thai da
Busaba.
Gnam Gnam!
A few drinks at Polpo's with Lis and her friend Angela open our evening. After a lot of laughs, chats and a few Spritz we're ready for our thai dinner at Busaba. Nom Nom :)
Prima di rientrare in albergo ci concediamo ancora una piacevole passeggiata per Soho raggiungendo Picadilly Circus al tramonto. L'aria è frizzantina e Londra mi sembra più bella che mai!
Before we head back to the hotel we treat ourselves with a walk around Soho and we reach Picadilly Circus at sunset. The air is crispy and Lodon looks more beautiful than ever!
Se volete rivivere questa favolosa giornata insieme a noi non perdetevi il vlog qui sotto!
If you wish to follow us on our second day in London don't miss the vlog here below!
Anche per oggi è tutto, vi aspetto domani con il nostro terzo post + vlog di viaggio, non mancate! ♥
That's it for today, be sure to come back tomorrow for our third travel post + vlog from London! ♥